Adapting to the Challenges of a Hybrid Workforce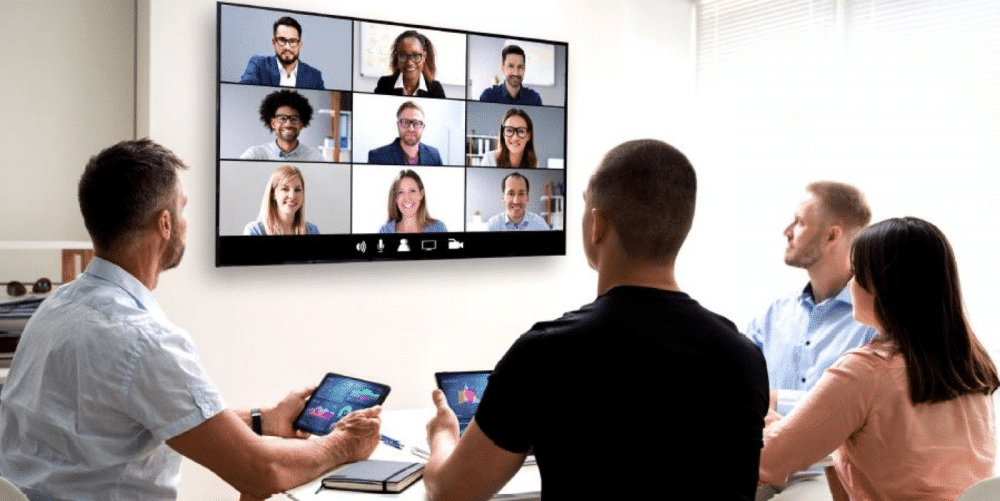 In the wake of COVID-19, businesses around the world are embracing hybrid work policies. A hybrid workforce offers a wide range of clear benefits, from reducing office space to boosting productivity and employee satisfaction. Most notably, in current times, businesses that have established remote working policies and processes aren't nearly as vulnerable to pandemic-related lockdowns as those that don't.
However, the way we manage projects and lead teams lean towards work in a traditional office environment. When some team members are sitting at home or even working at different hours abroad, something as simple as calling a meeting can become a complex process. To meet the challenges that a hybrid workforce brings, the way we manage people and projects has to adapt.
Focus on communication
When everyone is sitting in the same office, it's easy to call meetings, collaborate with coworkers, and generally maintain a consistent office culture. With a hybrid workforce, some employees won't be physically present, though. This often means they'll be excluded from office conversations and informal meetings, leaving them out of the loop.
Spontaneous communication between coworkers and managers is an essential part of office culture. Moreover, it's a vehicle for innovation, allowing people to exchange ideas and improve themselves. To address this problem, organisations need to work harder to facilitate conversations between employees and to lower communication barriers as much as possible. Fortunately, businesses can reach for a wide range (or combination) of digital solutions to these problems, from various collaboration-focused project management apps to formal daily Zoom meetings, to something as simple as team chat rooms.
Simply providing an avenue for communication, however, isn't good enough. It's important to experiment to determine what works best for each business or team individually, as some will respond better to open text communications. In contrast, others will prefer group calls, video chat, or other options entirely.
Maintaining an even playing field
Implementing a hybrid workforce for your business isn't as simple as allowing people to spend more time working remotely. That's because managers and in-office employees naturally continue to operate with the same mindset as before, working first and foremost with those physically around them. On the other hand, remote employees tend to be out of sight and out of mind until they're needed. Ultimately, this is a failure of leadership that can result in the sidelining of competent and productive employees to the detriment of the business overall.
To ensure that opportunities, tasks, and projects go to the most appropriate people, rather than the most visible or present, the leaders of businesses with a hybrid workforce need to work harder than they do in a traditional office environment. That means creating transparent decision-making practices that explicitly hedge against these tendencies.
Cybersecurity
Data security is a growing challenge for all businesses, and the rise of hybrid working is adding challenges. Remote workers need to access company systems from home, meaning that those systems need to be accessible online. Each of those remote employees is a vulnerability that a cybercriminal can take advantage of in terms of cybersecurity. If they can compromise an employee's (typically less secure) system, they can often steal the data needed to compromise the business' systems.
When instituting hybrid working policies, adding a BYOD policy can be incredibly tempting to cut costs further. This temptation, though, is one that businesses should resist. Dedicated work devices can be loaded with security features much more freely than an employee's personal device and are much less likely to be compromised in general because of their narrower usage.
Hybrid working represents a far-reaching and inevitable evolution in how we work as technology provides us with more efficient and effective tools for remote communication and collaboration. Success in this changing environment will be defined by how well we recognise and meet the challenges that this change brings with it.
Why Choose HR Expert Australia
As an HR Expert Australia member, you'll enjoy access to hundreds of templates and resources. Additionally, you can access a complete suite of HR tools to optimise processes and streamline efforts. We make it easy and affordable to manage HR functions. Whether you employ 50 or 500, we have solutions that reduce time-intensive tasks and help you focus on what matters: recruiting, retention, and developing a solid company culture. Learn more about how HR Expert can serve you and your business. Sign up now for instant access to your 10 FREE documents!
Information provided in this blog is not legal advice and should not be relied upon as such. HR Expert Australia does not accept liability for any loss or damage arising from reliance on the content of this blog or links on this website to any external website. Where applicable, liability is limited by a scheme approved under Professional Standards Legislation.